Seena Frost, SoulCollage® Evolving Book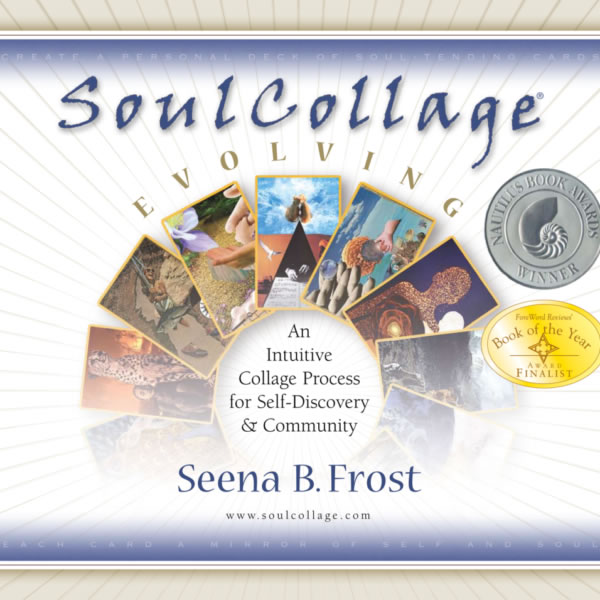 SoulCollage® Evolving gives you everything you need to contact your intuition and create an incredible deck of cards — one with deep personal meaning that will help you answer life's questions.
Finalist in ForeWord Review's 2010 Book of the Year Awards in the category: Body, Mind & Spirit
Silver Medal Winner in 2011 Nautilus Book Awards in the category Personal Growth, Self-Help, Psychology
Get your copy of SoulCollage® Evolving / Polish Translation: Purchase here.
SoulCollage® Evolving will teach you in easy steps:
How you can easily make and consult your own SoulCollage® cards
How you can work with the language of symbols, dreams, and archetypes
How you can let inner wisdom bubble up to answer your deepest questions
How you can create and nurture community with SoulCollage®
Get ideas of how to use SoulCollage® in groups of all kinds
Download Table of Contents PDF
"Seena Frost's work with SoulCollage® represents an insightful and original path to the depths…I cannot recommend this too highly."
Jean Houston Author, A Mythic Life, JumpTime
"[T]he most original contribution to the battery of tools for deep self-exploration and psychotherapy in years."
Stanislav Grof, M.D., Ph.D. Author, Psychology of the Future, Adventure of Self-Discovery, Holotropic Mind
"A terrific resource for spiritual circles, women's clubs, study groups, and anyone interested in archetypes or divination. Most highly recommended."
Fearless Reviews
Get your copy of SoulCollage® Evolving / Polish Translation Purchase here.
After you have read the book you can:
Enjoy SoulCollage® with friends and family.
Make cards, using the "I Am One Who…" exercise, and doing a SoulCollage® "reading" together.
Attend a SoulCollage® workshop, course or retreat. Find Facilitators or events near you at World of SoulCollage®.

*Note: SoulCollage® is a trademarked process. Please don't teach others to use the method until you have completed the SoulCollage® Facilitator Training. Only trained SoulCollage® Facilitators are granted permission to use the SoulCollage® trademark to hold groups and workshops.